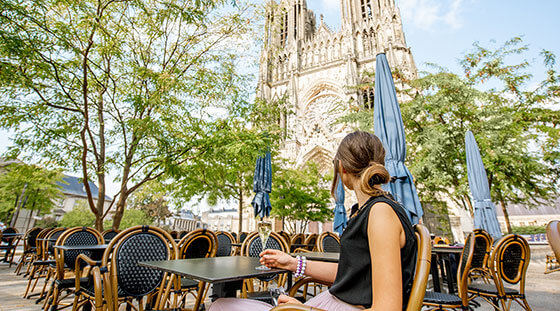 The bubbles of Reims
Head to Reims, the unofficial capital of champagne, located just 3 hours from Brussels, and learn about the secrets of this prestigious drink! Take a trip to one of the 16 champagne houses in the city, such as Mumm, Taittinger, Veuve-Clicquot and Vranken-Pommery - all well worth a visit.
However, as Reims takes its food just as seriously, we would strongly suggest taking a stroll through the Boulingrin district. The covered market in Boulingrin is home to the city's biggest market three times a week. Don't miss out on a trip here, a delight for the senses (and especially your taste buds). Take a walk along rue de Mars and Place du Forum. Top tip: antiques hunters will also enjoy the Boulingrin district! ;-)
And if you fancy some truly fine dining in Grand Reims, it boasts 9 Michelin-starred restaurants, including L'Assiette Champenoise, Le Domaine des Crayères, Le Foch, Le Grand Cerf, Le Millénaire and Racine, to name but a few.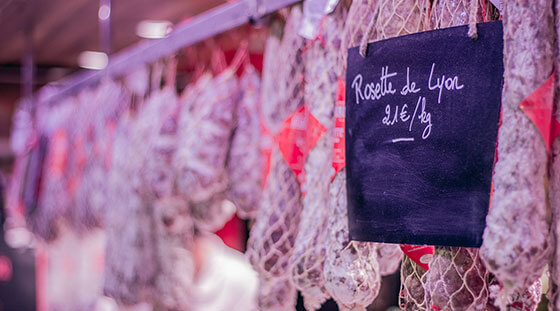 The haute cuisine of Lyon
Described as the "world capital of cuisine", Lyon has gained a well-deserved reputation. The world-famous Lyon "bouchon" restaurants, the excellent local produce and the top chefs make the city a leading destination for good food.
Out of the (10) things to do in Lyon, we would advise having a (long) food stop at the indoor food market at the Halles de Lyon-Paul Bocuse. Almost 50 shops (including cheesemongers, bakers, market gardeners, butchers, fishmongers, delicatessens and wine merchants) carry the torch for traditional tastes from the French regions. While you're there, try a charcuterie meat platter, a sausage in brioche, pike quenelle or even salted pork, for example.
If you prefer the authentic atmosphere of a Lyon "bouchon" restaurant, then we would certainly recommend Les Fines Gueules, Le Bistrot d'Abel and Le Poêlon d'Or. In 2012, the Les Bouchons Lyonnais association was created in order to keep this culinary tradition alive in the city. On their site, you can find a full list of Lyon's certified "bouchon" restaurants. Bon appetit!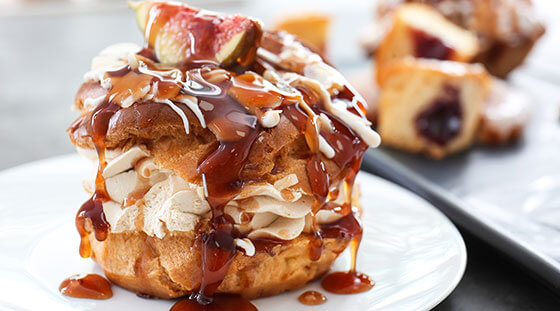 The bright lights of Paris
During your trip to Paris, there really are some essential restaurants that you mustn't miss, but there are also some hidden gems just waiting to be discovered. On top of that, there are also typical dishes that you must try, such as hachis parmentier (a dish made with potatoes and beef) and gratinée des Halles (French onion soup covered with grated gruyère and grilled in the oven), as well as iconic deserts from the French capital, such as millefeuille vanilla slices (layers of puff pastry alternating with layers of pastry cream), Saint-Honoré cake (puff pastry topped with choux garnished with Chiboust cream) and Opéra cake (a dessert made with "Jaconde" almond sponge cake, coffee-flavoured buttercream and chocolate ganache).
Paris is home to many great pâtisseries and was the birthplace of renowned restaurants. The City of Lights boasts a long list of acclaimed restaurants, but here are some names which shouldn't disappoint: treat yourself to a unique experience and enjoy the highest-level gourmet cuisine at the Pierre Gagnaire restaurant, the L'Atelier de Joël Robuchon restaurant or even Jean-François Piège's le Grand Restaurant.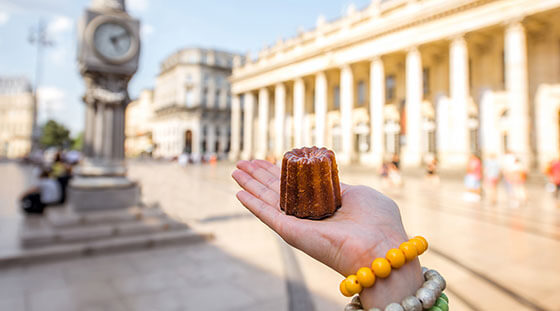 Bordeaux's blend of land and sea
Bordeaux's superb architecture, its pedestrian streets and quaint squares dotted with bistro terraces make the city somewhere where people quite simply take the time to enjoy life. So when someone says Bordeaux, wine is inevitably mentioned! The Bordeaux wine region is one of the most renowned in the world and boasts exceptional vintage years. We would recommend sampling Médoc, Saint-Emilion, Pomerol and many others during your getaway.
If you want local specialities, try the duck and goose confits (pieces of salt-cured meat cooked in duck or goose fat), Bordeaux-style snails (cooked with Bayonne ham, tomato, garlic and white wine), Bordeaux-style lamprey (a delicious small fish served with leeks and a sauce made out of wine, onions and herbs) and gâteau des rois (a brioche ring flavoured with orange blossom), as well as canelés (small spongy cakes flavoured with vanilla). If you want great restaurants, head to to La Belle Époque to try traditional cuisine and to Toque Cuivrée to taste the best canelés.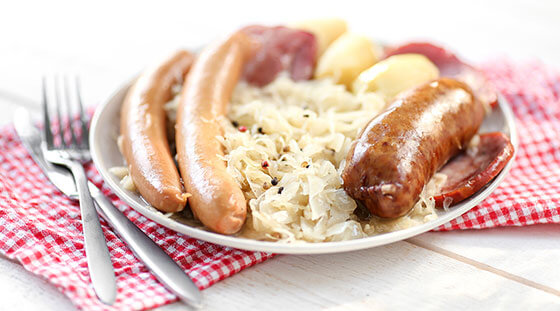 Strasbourg's blend of tradition and modernity
Just like the rest of France, Strasbourg promotes cuisine as a way of life. This city full of half-timbered houses serves up countless culinary specialities for you to try in the 'winstubs', which are local taverns with a warm and friendly atmosphere.
You can't leave without trying some of the specialities in the (non-exhaustive) list below: choucroute (fermented cabbage served with pork), flammekueche (a thin pizza-like tart topped with crème fraîche, white cheese, lardons et onions), baeckeoffe (a slow-cooked dish made with potatoes, vegetables, pork, lamb and beef), fleischkiechle (pan-fried pork and beef patties), bretzel (a type of brioche sprinkled with coarse salt), kougelhopf (naturally sweet brioche, which can be served with jam), gingerbread and streusel (brioche covered with a layer of cinnamon-flavoured crumble).
So, where can you try all these dishes? Enjoy popular Alsatian dishes at the Saint-Sépulcre restaurant, famous for its "jambon en croûte" (ham baked in a pastry case) or its meat stew, dive into the bar-like atmosphere of Binschtuband try its original rustic flammekueche recipes, or head to Pâtisserie Naegel, where you can sample its strudel, streusel, kougelhopf or its Linzer torte.
Discover Strasbourg: book your ticket now >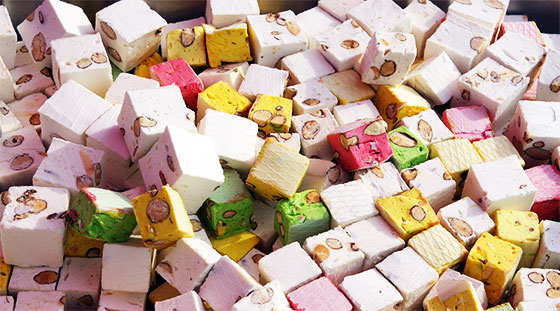 Touches of class in Valence
Whether you like sweet or savoury food, you enjoy fine exotic meats or are a vegan, or you love wine or simply prefer fruit juice (or both ;-)), you won't be able to resist the Drôme region's specialities, including ravioles du Dauphiné (small pasta squares filled with French Emmental cheese), Caillette (small pâté pieces made out of pork and finely chopped herbs), Suisse (a small puppet made out of short-crust pastry flavoured with candied orange peel and orange blossom), Pogne (brioche flavoured with orange blossom) and Pangée (biscuit made out of apricots, honey and almond), as well as the local produce, such as oil and olives from Nyons, black truffles and nougat from Montélimar.
And, of course, head to Anne-Sophie Pic's eponymous restaurant (the only female chef to be awarded 3 stars in the Michelin Guide), La Cachette or Flaveurs, and enjoy inventive seasonal haute cuisine.