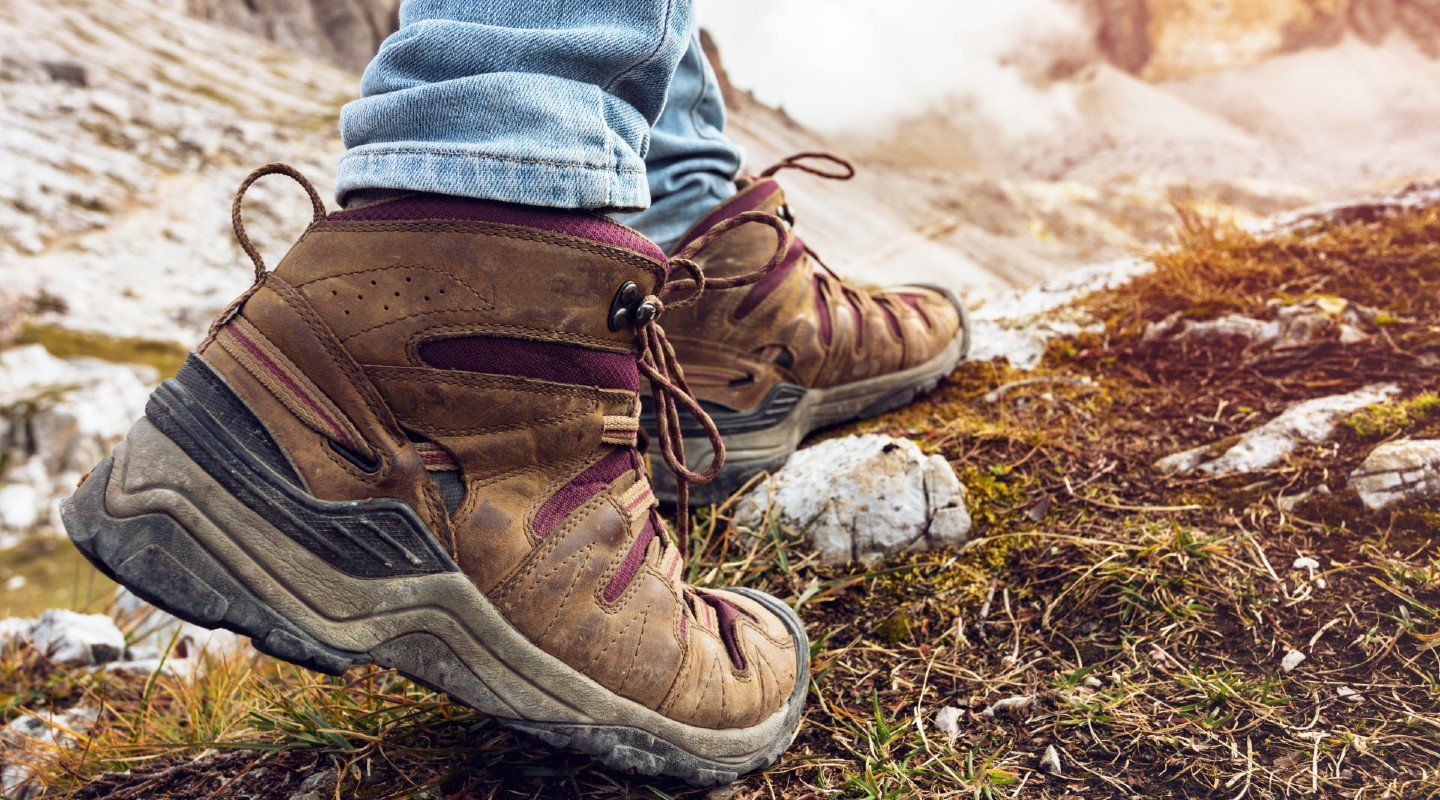 1. These boots are made for walking
Your feet are your most valuable asset when hiking, so it's important to take care of them. Good walking shoes are therefore of paramount importance. Choose the right type of hiking boots from the 4 categories available (A, B, C and D): from light hiking boots to alpine boots with crampons. A final tip: always wear your hiking boots with hiking socks.
2. Don't forget the right socks
In addition to good shoes, socks are also important when hiking. Choose no-sew hiking socks for maximum comfort and minimum bleeding. Do you already have sore spots on your feet? Cover them with paper sports tape, without ribs and not too tight!
3. Clothing in the right size
Besides hiking boots, it is also important to wear the right clothes. There's nothing worse than trousers that are too tight or a T-shirt that rubs during a hike. Choose layers and light clothing! Hiking in the sun? Then make sure you protect yourself from UV rays!
4. Book your accommodation in advance
Book your accommodation in advance so you don't have to worry about it during your adventure. Your only objective: to get your legs moving!
5. Have a plan B
Check maps of the area beforehand. Are you planning multi-day hikes that involve moving from one resting place to another? Then make sure you always have a plan B at hand. In case of an emergency, you can switch to this alternative without having to worry .
6. Take a break
Don't lose sight of all the beautiful things you pass on your walk. Make sure you take enough breaks to relax and enjoy the scenery. This way, after your hike, you can recall exactly what gems you saw on your way.
7. Eat and drink enough
Exercise is important, but so is eating and drinking enough. An engine cannot run without fuel! Make sure you take enough water and snacks with you. Alternate between sweet and savoury: energy bars, fruit snacks, nuts, etc.
8. Keep an eye on the weather
Going to the mountains? Don't forget to check the weather forecast before you go! The weather can change very quickly. Leaving in the morning with bright sunshine and finding yourself in a downpour an hour later is not unusual but part of the adventure.
9. Respect nature
Do you want the people following you to enjoy the scenery as much as you do? So don't leave any litter behind during your walk. Stay on the marked paths and listen to your music with headphones; the animals along the way will thank you!
10. Entertain the little ones
Are you going for a walk with young children? Then make sure they don't get bored, as this would make the walk endless. Make a list of things they need to see on their journey in advance to keep them alert and excited.