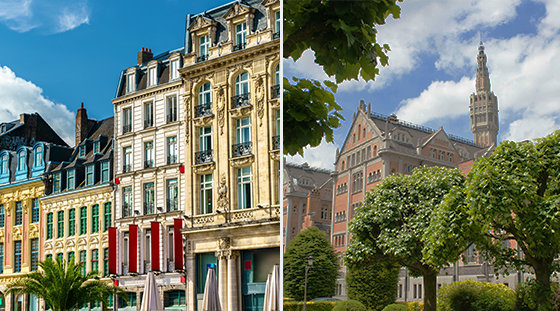 Lille : a convenient trip just 35 min. away from Brussels
Experience the charm of Lille, a gem in northern France, which offers a blend of history, art, and culture. Take a stroll through the charming streets of the Old Town, visit the Palais des Beaux-Arts and admire its grandeur. Don't forget to check out the impressive Lille Cathedral.
Lille by train
Lille is easily accessible from Brussels in only 35 minutes thanks to TGV INOUI. Youngsters younger than 26 may also enjoy a special reduced fare of only €12* each way when booking 1 to 5 days ahead. Besides, cross-border Intercity trains will take you to Lille multiple times a day from several cities in Belgium with a change in Kortrijk or Tournai.
A unique local experience
Head to La Piscine museum located in the nearby city of Roubaix (10 min. away by train).
This museum is housed in a beautifully restored Art Deco swimming pool. It boasts a stunning collection of art and design, and hosts regular exhibitions and events.
Where to have lunch?
After exploring the city, head to Le Barbue d'Anvers for a delicious meal. This cozy restaurant serves up traditional cuisine with a modern twist, and is a favorite among locals and visitors alike.
Where to take a memorable picture?
Head to the Palais Rihour for an Instagram-worthy photo. This stunning Gothic-style building is located in the heart of the city. The colorful facade and intricate detailing make for a beautiful backdrop.
Ready to depart from Brussels? Travel from € 19,00a
---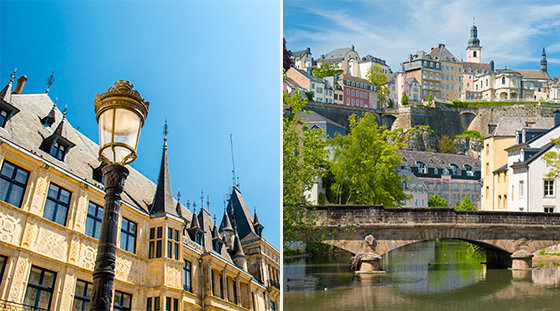 Maastricht in less than 2 hours from Brussels
As you cross the border into the Netherlands, Maastricht welcomes you with its blend of tradition and modernity.
The charming cobblestone streets, majestic historic buildings, and lively squares greet you around every corner and exude timeless elegance.
Maastricht by train
Maastricht is serviced by the Hasselt-Liège-Maastricht S train. To get to Hasselt or Liège, simply take the Belgian national trains from your nearest station!
A unique local experience
Delve into the mysterious underground world of Maastricht by visiting the Caves of St. Pietersberg hill. Embark on a guided tour that takes you deep into the caves, where you'll discover fascinating rock formations, hidden corridors, and captivating stories from the city's past.
Where to have lunch?
Savor the authentic flavors of Maastricht at Café Sjiek, a beloved local eatery renowned for its hearty, traditional cuisine.
Where to take a memorable picture?
Capture a vibrant moment in the heart of Maastricht at Vrijthof Square. This bustling plaza, surrounded by magnificent historical buildings, offers a lively atmosphere.
Ready to depart from Brussels? Travel from € 17,50b
---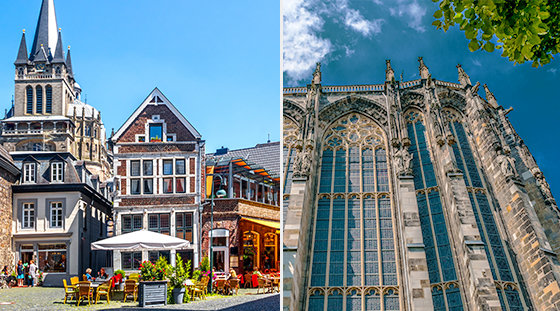 Aachen, an intimate staycation 21 min. away from Liège
Aachen is a picturesque city. It is steeped in history. Its Romanesque architecture is stunning. It has historic hot springs as well as a rich cultural heritage to explore.
Take a stroll through the charming Old Town and marvel at the impressive Aachen Cathedral, a masterpiece of medieval architecture. Pay a visit to Theater Aachen, a beautiful venue hosting a range of performances throughout the year. Whether you are looking for a concert or cultural event, you will find something to your taste.
Aachen by train
Choose between high-speed trains (Eurostar or ICE) or regional cross-border trains to get from your home all the way to the heart of Aachen!
A unique local experience
Visit the Carolus Thermen, a historic thermal spa located in the heart of the city. Here you can soak in the naturally heated mineral waters and indulge in a range of spa treatments.
Where to have lunch?
After your spa experience, head to Zum Goldenen Einhorn for a traditional German meal. This cozy restaurant serves up hearty dishes like schnitzel and sauerbraten, and is a favorite among locals.
Where to take a memorable picture?
Here we are not talking about one, but several spots in the city. Take up the challenge and take a selfie at the city's many fountains. Elisenbrunnen, Puppenbrunnen, Karlsbrunnen are the most famous, but there are even more to admire in the city! Ideal for a carousel on your wall.
Ready to depart from Liège? Travel from € 7,60b
---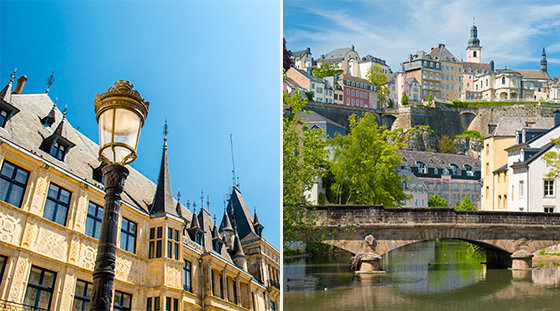 Luxembourg, indulge in ancient charm 2h02 away from Namur
Luxembourg, the capital city of the eponymous country, will sweep you off your feet with its enchanting blend of ancient beauty and cosmopolitan flair.
The city's historic fortifications, perched atop rocky cliffs, create a breathtaking sight as you enter its charming streets.
Luxemburg by train
InterCity trains bring you from many different cities in Belgium all the way to Luxemburg every hour of the day.
A unique local experience
Step back in time and explore the intriguing Bock Casemates. These underground fortresses immerse you in a bygone era, unveiling the city's storied past.
Where to have lunch?
Indulge in a gastronomic delight at Michelin-starred Mosconi. This culinary gem revisits Italian flavors, tantalizing your taste buds with every bite.
Where to take a memorable picture?
Don't miss Grund, a picturesque neighborhood nestled along the Alzette River. Its colorful houses, charming bridges, and cascading waterfalls create an idyllic setting for capturing picture-perfect memories.
Ready to depart from Namur? Travel from € 17,10b
---
A Mid Flex Week-end 2nd class fare on board TGV INOUI. Fares valid on Saturdays, Sundays and public holidays. 90% refundable before departure, non-refundable in all other cases. Unlimited exchanges before train departure.
B Weekend Adult 2nd Class fare. Non-refundable and non-exchangeable. The outward journey may be made on Friday, Saturday or Sunday, with the return journey on Saturday or Sunday. The dates of extended weekends and public holidays are communicated annually. The ticket is only valid on the date specified on the ticket. The tickets must be presented together. Ticket valid for the specified route and validity day. Not valid on Eurostar. Valid without supplement in IC Direct.