What to do in Rennes?
1. A stroll through the historic city centre
Most of the landmarks in Rennes can be found in its historic city centre. Pay a visit to the city's impressive cathedral or swing by the Portes Mordelaises, a castle entrance gate with two towers belonging to a 15th-century castle.
Meanwhile at the Place du Champ-Jacquet, you can marvel at the timber-framed houses that are so typical of Rennes. The Palais du Parlement de Bretagne (the city courthouse), the opera house and Chapelle Saint-Yves (a chapel) are all well worth a visit, too.
2. Nature
If you'd prefer to be away from the hustle and bustle, you could take a trip to Thabor park, where you can bask in the silence and calm of a French formal garden, a botanical garden and even a wonderful rose garden.
In summer, you can attend one of the many shows held here. The park is also one of the most famous in all of France.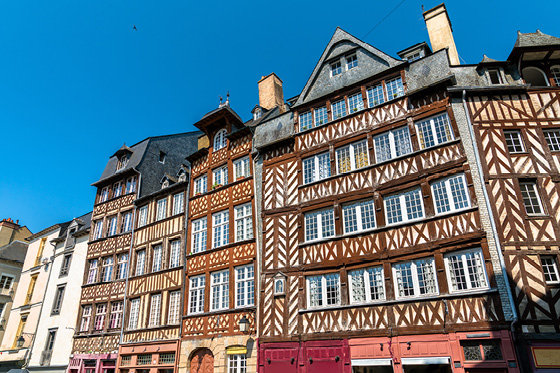 Facade at the Place du Champ-Jacquet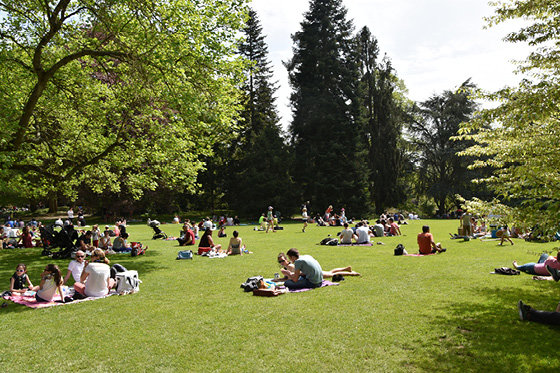 Thabor park
3. Marché des Lices
Every Saturday morning, the covered market halls of the Marché des Lices play host to 300 local and regional producers, all selling their products to the public. It's a fantastic opportunity to try out some local delicacies. Feast on fresh oysters and enjoy the selection of fresh cheeses as you browse the many stalls.
If you still have some energy left afterwards, you can check out the trendy boutiques where local designers sell their wares.
4. Food & drinks
While Brittany may be known chiefly for its pancakes and cider, the region has so much more to offer. In Rennes, you can choose from many different restaurants, all of which serve various local specialities.
Brittany is also known for its tasty seafood – fresh scallops from Brittany are considered to be the best in the world!