1 – Amsterdam Light Festival – Amsterdam is home to what could be the most dramatic light festival in Europe, with exclusive lighting creations that look fantastic from land and water alike. As in previous years, the installations are set up along the canals, making a boat tour the best and most comfortable way of seeing them all. One must-see is "thinline", an artwork by famous Chinese artist Ai Weiwei that unwinds along the full extent of the water exhibition for over 6.5 km. A new development for 2018 is the land exhibition, which is set to take place on Marineterrein Amsterdam − in close proximity to Amsterdam Central Station.
When? 29 November 2018 to 20 January 2019
Getting there by train: You'll be in Amsterdam in no time at all with a Thalys or ICE express train. Alternatively, you can take a classic InterCity train. Book your Amsterdam trip >
2 – Fête des Lumières (Festival of Lights) in Lyon – Light and sound productions ("son et lumière") are a French specialty that will be taken to new heights over the course of four nights in Lyon ;-) Artistic light installations and audiovisual technology allow you to discover Lyon's landmarks and sights in a new light: from the grand buildings in Presqu'ile Provincial Park to the historic city centre across the Saône river, and from here to the top of Fourvière, the famous hill that is home to the Basilica. This tour of Lyon will be sure to linger in the memory long after it ends.
When? 6 to 9 December 2018
Getting there by train: TGV® Brussels-France, TGV® France, TGV Lyria, Eurostar and TGV®/ICE France-Germany trains are all quick, comfortable options for reaching Lyon. Book your Lyon trip >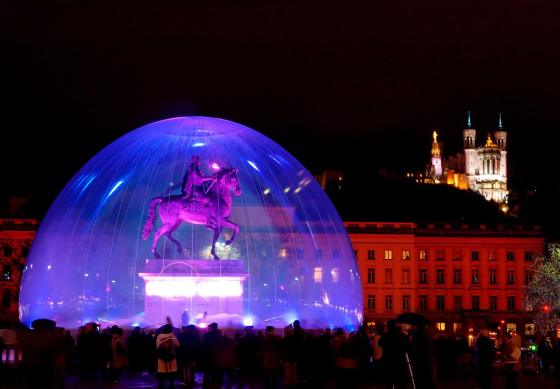 3 – Lumiere London – This light festival in London will be returning for a second time in January 2018. You won't believe your eyes: the theme of the festival this time around is "bigger, brighter and bolder", with 40 British and international artists tasked with turning London city centre (on both sides of the Thames) into a breathtaking light-based art exhibition. Don't miss out on seeing this spectacle.
4 – Magical Maastricht – Whether you are travelling from Belgium, the Netherlands or Germany, Maastricht is the perfect destination for a one-day excursion or short trip. And in December, visitors and shoppers are sure to be spellbound by the festive Christmas atmosphere of Magical Maastricht. Vrijthof square with its Christmas market, ice rink and Ferris wheel is at the heart of the event. From here, you can follow a procession of lights through narrow alleyways to discover all the hidden corners of the city.
When? 1 December 2018 to 2 January 2019
Getting there by train: InterCity trains on the Belgian and Dutch rail networks provide direct connections to Maastricht. Book your Maastricht trip >
5 – Ghent Light Festival – The last three spectacular editions of the light festival in the Belgian city of Ghent attracted hundreds of thousands of thrilled visitors from all over Europe − and they probably still remember the festival well. Now it's time for the next edition. The 2018 festival has been extended by one day (Wednesday 31 January) and the programme is more expansive, encompassing the city's historic city centre and the Arts Quarter while shining the spotlight on Ghent's industrial past. If you would prefer to avoid the crowds, we recommend going to the festival on Wednesday or Thursday evening.
When? 31 January to 4 February 2018
Getting there by train: Take the Thalys, Eurostar, TGV® or ICE to Brussels and then switch to one of the trains on the Belgian rail network. Ghent is just under 30 minutes away from Brussels. Book your Ghent trip >