1 – Amsterdam Light Festival – Amsterdam is home to what could be the most dramatic light festival in Europe, with exclusive lighting creations that look fantastic from land and water alike. As in previous years, the installations are set up along the canals, making a boat tour the best and most comfortable way of seeing them all. This year's light festival is all about artificial intelligence. Use your imagination and discover what the future holds..
When? 30 November 2023 to 21 January 2024
Getting there by train: You'll be in Amsterdam in no time at all with a Eurostar or ICE express train. Alternatively, you can take a classic InterCity train. Book your Amsterdam trip >
2 – Fête des Lumières (Festival of Lights) in Lyon – Light and sound productions ("son et lumière") are a French specialty that will be taken to new heights over the course of four nights in Lyon ;-) Artistic light installations and audiovisual technology allow you to discover Lyon's landmarks and sights in a new light: from the grand buildings in Presqu'ile Provincial Park to the historic city centre across the Saône river, and from here to the top of Fourvière, the famous hill that is home to the Basilica. This tour of Lyon will be sure to linger in the memory long after it ends.
When? 7 to 10 December 2023
Getting there by train: TGV INOUI, TGV Lyria, Eurostar and TGV®/ICE France-Germany trains are all quick, comfortable options for reaching Lyon. Book your Lyon trip >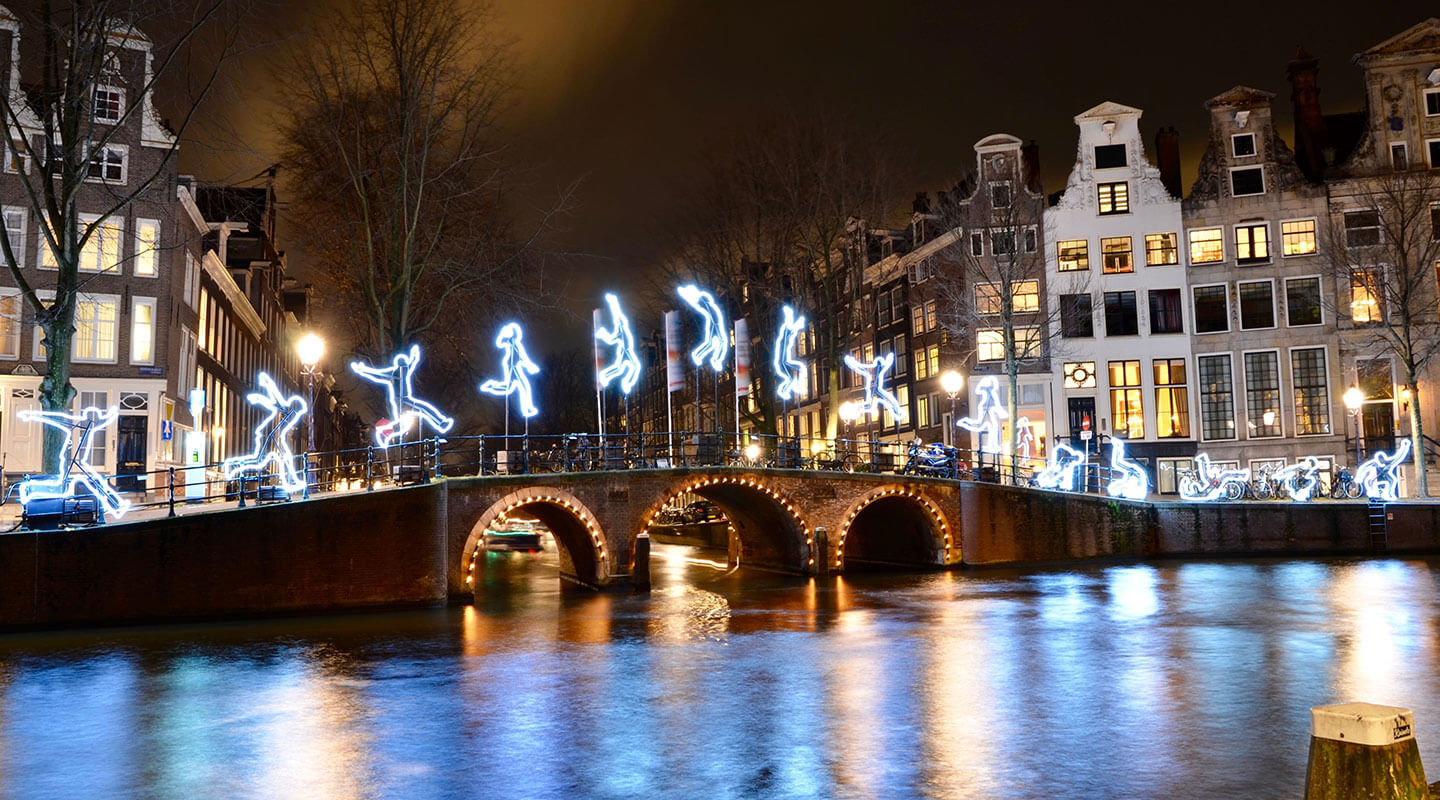 3 – Light Festival in Battersea Power Station, London – For the third year in a row, Battersea Power Station is the place to brighten up the dark winter months. Admire 8 breathtaking works of art both inside and outside this hip revamped venue. After visiting the light festival, enjoy a delicious meal at one of the food stands or food trucks.
When? 19 January- 5 March 2024
Getting there by train: Eurostar will whisk you away to the heart of London in record time. Book your London trip >
4 – Magical Maastricht – Whether you are travelling from Belgium, the Netherlands or Germany, Maastricht is the perfect destination for a one-day excursion or short trip. And in December, visitors and shoppers are sure to be spellbound by the festive Christmas atmosphere of Magical Maastricht. Vrijthof square with its Christmas market, ice rink and Ferris wheel is at the heart of the event. From here, you can follow a procession of lights through narrow alleyways to discover all the hidden corners of the city.