Interrail pass recommendation
For a trip like this one, you can select a 15-day or 22-day Interrail Global Pass. If you choose the 22-day pass, you can stay in some cities a little longer than we have indicated and travel at a gentler pace. If you go for the 15-day pass, you'll have to make certain choices and skip a stop here and there. This is only our suggestion – it's up to you to tailor it to your own needs.
Your itinerary
Travel day 1: Brussels – Cologne – Hamburg (6 hours 48 minutes)
The first day of our programme includes quite a hefty train journey straight away. Take the train from Brussels to Cologne and then the next train to Hamburg. If there's some time left in the evening, be sure to take a boat trip through the ports of Hamburg.
Travel day 2: Hamburg - Copenhagen (4 hours 40 minutes)
You'll have half a day in Copenhagen, so you're going to have to decide what you want to do. This former port city has a lot to offer: the town hall, the Tivoli amusement park, the botanical gardens, swimming in Islands Brygge... take your pick! And if you don't feel like choosing, simply stay in town a little longer!
Travel day 3: Copenhagen – Stockholm (5 hours 46 minutes)
Our next train will take us from Copenhagen to Stockholm. Spend the afternoon taking a stroll through the city, then take the Arlanda Express airport train from the central station (City terminals) to the port of Värtahamnen (20 minutes).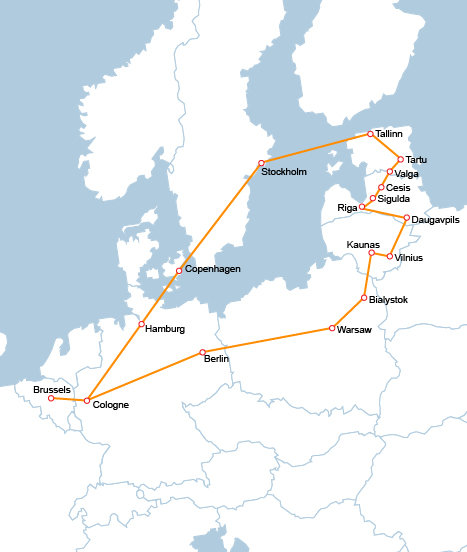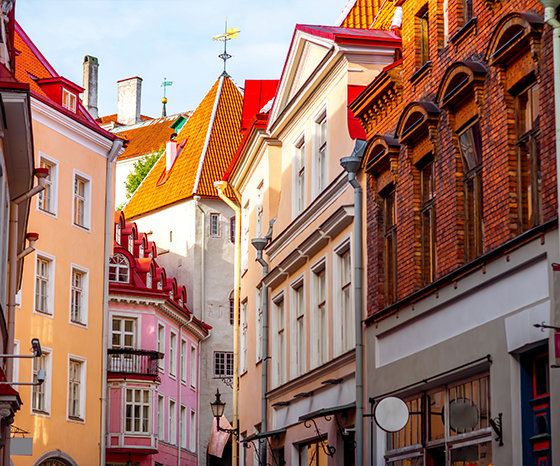 Budapest
Night from day 3 to day 4: Tallink Silja ferry from Stockholm (Värtahamnen) to Tallinn (15 hours 45 minutes)
Spend your third night on board the Tallink Silja ferry, which will take you from Stockholm to Tallinn in just under 16 hours. Travelling while you sleep, how easy is that? All you have to do is enjoy the ride. And get some rest, because after this your trip will really get going!
Travel day 4: Arrival in Tallinn
On day 4, you'll start your journey through the Baltic States. The first stop is Tallinn, the capital of Estonia. Enjoy its culture and beautiful architecture – the medieval town centre has been recognised as a World Heritage Site. The city isn't huge, but you'll be amazed by the beauty of its old Hanseatic warehouses and its town hall square. With more than 50 different museums, Tallinn is the perfect destination for museum lovers.
Travel day 5: Tallinn – Tartu (185km – 2 hours 40 minutes)
Continue your route towards Tartu, a student city with a wide range of pubs and restaurants. In summer, when the students have gone home, it's a quiet and pleasant city – a perfect time for exploring its rich history and beautiful parks! Fun fact: Tartu is one of the 28 UNESCO Literature Cities.
Travel day 6: Tartu – Valga (85km – 1 hour 15 minutes)
Valga is the only station that has trains going from Estonia to Latvia, while the Military Museum houses an interesting exhibition about the Estonian struggle for independence.
Travel day 7: Valga – Cesis (1 hour 10 minutes)
The first stop in Latvia is Cesis, a small town in the north of the country. Its location on the edge of Gauja National Park is perfect for beautiful hikes through unspoilt nature. You'll also find many other points of interest reflecting the rich history of the city and the country: Cesis Castle, St. John's Church and more.
Travel day 8: Cesis – Sigulda (about 40 minutes)
Now it's time to visit the city of Sigulda along the Gauja River, where you can explore Gutman's Cave or visit Turaida Castle. Fun fact for all you skiers and snowboarders: the city is also a major winter sports resort.
Travel day 9-10: Sigulda – Riga (about 1 hour)
Riga awaits you for two days of fun. The Latvian capital is the largest city in the Baltic States and has many interesting neighbourhoods. Enjoy some delicious fish or visit the local market right by the old town centre. And as a former member of the Hanseatic League, the city has a rich history. Stroll through its winding streets and admire its medieval churches and guild halls, taking the time to discover why Riga's historic centre is a UNESCO World Heritage Site.
Travel day 11: Riga – Daugavpils (about 3 hours 30 minutes)
On day 11 we travel down to Daugavpils, Latvia's second-largest city, where you can visit Daugavpils Fortress along the Daugava River.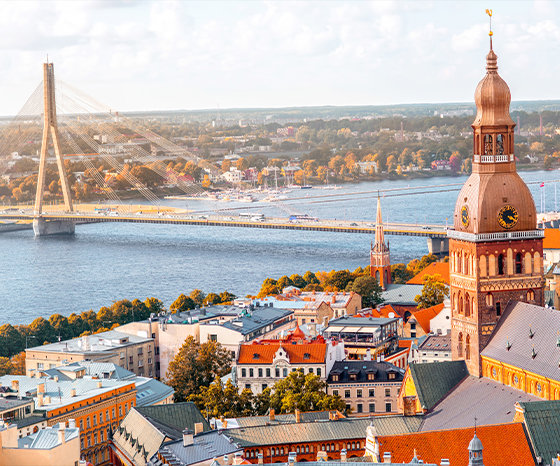 Zurich
Travel day 12-13: Daugavpils – Vilnius (2 hours 45 minutes)
We leave Daugavpils to travel to Vilnius, the capital of Lithuania. Make sure to visit the intriguing Užupis district, which has been declared an independent city-state by artists and free spirits and has its own flag, anthem and constitution. Fans of street art will love spending time in this neighbourhood. While you're there, learn about the story of Stebuklas, the miracle tile. Find the tile and who knows, you may want to make a wish?
Day 14: Vilnius – Kaunas (about 1 hour 30 minutes)
When travelling to Lithuania, a visit to Kaunas is an absolute must. The second-largest city in the country and home to a huge number of museums, you should make sure you experience the charm of the bumpy cobblestone roads and the beautiful cottages in the old town. Another plus is that staying in Kaunas is relatively cheap. Finally, a visit to the Ninth Fort is something not to be missed. This old Kaunas prison served as the largest concentration camp in the Baltic States in World War II.
Day 15: Kaunas – Bialystok (4 hours 38 minutes)
Start your journey home by going to Poland. Leave Kaunas to travel to Bialystok, a true gem in the north-east of the country. With both Polish and Russian influences, the city is sure to pique your interest!
Travel day 16: Bialystok – Warsaw (2 hours 18 minutes)
Get on the train for less than two-and-a-half hours and visit Warsaw, the Polish capital where east and west meet. You'll find both historical monuments and contemporary architecture, and you can take a walk along the Vistula River or make your way from the Royal Palace in the Old Town to Belvedere Palace.
Travel day 17-18: Warsaw – Berlin (6 hours 9 minutes)
This leg of the journey takes you from one capital city to another. It's not a short trip, though, so make sure you add an extra day to visit Berlin. After seeing the more conventional sights such as the Brandenburg Gate, the Holocaust Memorial and Checkpoint Charlie, you should definitely make time to explore off the beaten track!.
Day 19 (or 20): Berlin – Cologne – Brussels (6 hours 45 minutes)
From Berlin, travel back to Brussels via Cologne. You can choose to travel home in one go or stay overnight in Cologne. You have to change trains in Cologne anyway, so visiting the city is easy. The great thing about travelling with an Interrail Global Pass is that you're your own tour guide, so you decide what you do!
If you feel like discovering even more fantastic places with Interrail Passes, take the time to read our blog about a route through six European countries or the Scandinavian adventure. Happy travels!