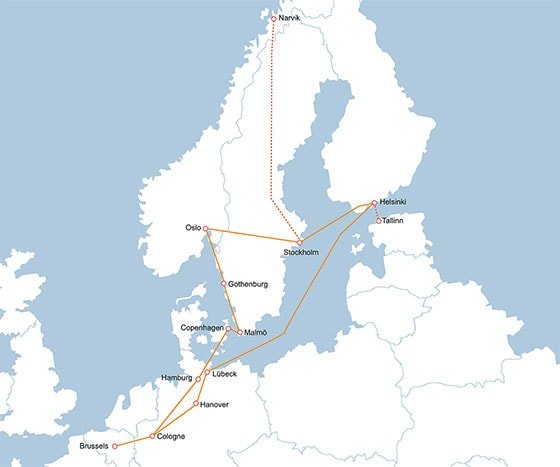 Interrail pass recommendation
A small tip before we begin: for a trip around Scandinavia we recommend booking an Interrail Global Pass with at least 7 days of travel in one month. With this bestseller you can travel through 33 countries of your choice in Europe, including Finland, Sweden, Norway and Denmark. What's more, these rail passes allow you to decide for yourself which days you want to travel on, and more importantly how long you want to stay in each place. Discover all of the Interrail Global Pass possibilities >
Tip: youngsters pay €255 for a Global Pass with 7 travel days within one month…
Travel Day 1 – From Brussels to Lübeck (D)
The first day of travel will take you by Deutsche Bahn's ICE or regional trains from Brussels via Hannover to the North German Hanseatic city of Lübeck. The longest part of the journey awaits you after Travemünde – Lübeck's harbour.
Travel Day 2 – Travemünde, Lübeck – Helsinki (FIN) with the Finnlines ferry
Probably the longest day of travel: in 29 hours you will cross the Baltic Sea and arrive at the Finnish capital. This time it's not by train you will be travelling, but by ship.
Optional - Excursion to Tallinn (EST)
Since you've already come this far, a trip to the Estonian capital of Tallinn and its UNESCO world heritage old town is also well worth it. The Tallink Silja ferries will take you from Helsinki to Tallinn in just 2 hours.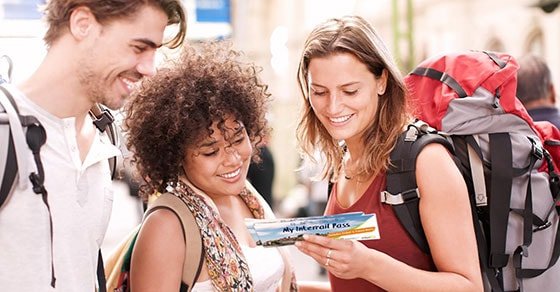 Travel Day 3 – Helsinki – Turku – Stockholm (SE) with Tallink Silja ferries
First take a Finnish train from Helsinki to Turku. From there, board the Tallink Silja ferry and arrive in Stockholm around 10 hours later.
Optional - For fans of the true North
if you get an Interrail pass with additional days of travel (e.g. 10 or 15 days of travel in a month), then you should definitely take a trip to Narvik in Norway. Take a night train from Stockholm to Narvik, which lies within the Arctic Circle, and arrive 20 hours later at the ideal location to discover this impressive region.
Travel Day 4 – Stockholm – Oslo (NO)
From here on we'll be travelling only by train. Alongside expansive ferry lines, Scandinavia also boasts a developed railway network, allowing you to travel not only within countries, but also between the individual countries in Scandinavia. The next stage of the journey: direct from the Swedish capital to Oslo in under 5 hours.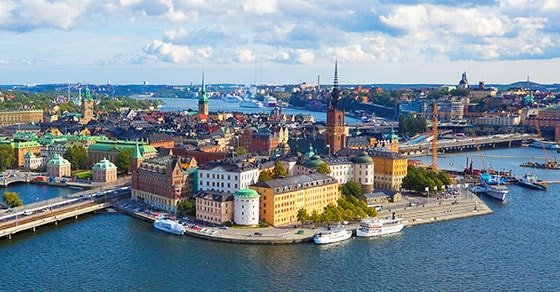 Travel Day 5 – Oslo – Malmö – via Göteborg (SE)
And so we continue! In less than 4 hours you can travel from Norway to the Swedish city of Göteborg, whose coffee house culture alone makes it worth a visit. From here it's just 2 hours to Malmö.
Travel Day 6 – Malmö – Copenhagen (DK)
Fans of the well-known television series "The Bridge", will await this moment impatiently. Crossing the legendary bridge will take you from Malmö to Copenhagen in just 35 minutes. A small tip for music fans: if you are in Denmark at the end of June or beginning of July, then try to visit the Roskilde Festival.
Travel Day 7 – Copenhagen – Brussels – via Hamburg and Cologne
You should plan an entire day for this part of your trip, or maybe even two, for example if you feel like visiting the trendy city of Hamburg. In any case, travel from Copenhagen to Hamburg via Rødby. Travel from here to Cologne and then begin the last part of your Interrail adventure: the route between Cologne and Brussels takes under 2 hours with ICE or Eurostar trains.