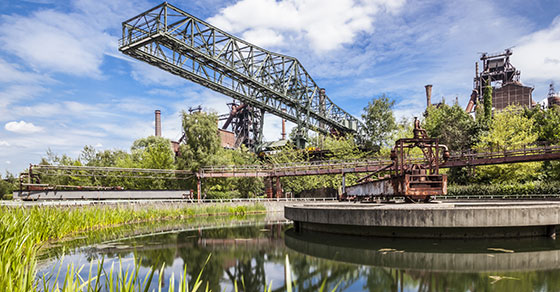 In Germany
Cologne Botanical Gardens
Tucked away in the north of the city on the left bank of the Rhine, the Flora and Botanical Garden of Cologne is a vast expanse of greenery. Covering 11.5 hectares, it is home to over 10,000 trees and plants that visitors can discover by walking through the tropical and palm greenhouses. Designed in the 19th century, the garden incorporates all the traditions of French Baroque, Italian Renaissance and English landscape gardening.
Visit the garden's website for more information.
Duisburg Landscape Park
Disused blast furnaces, which today house the industrial heritage monument, are at the centre of the Duisburg North Landscape Park, a haven for visitors encompassing 200 hectares of land. The site, which is criss-crossed by roads and railway lines and colonised by various types of plants, is naturally divided into several zones illustrating a diverse range of environments.
For more details, go to www.landschaftspark.de.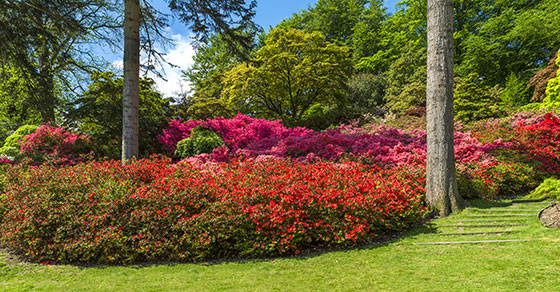 Around London
Eltham Palace and Gardens, Greenwich
Perched on a hill in a suburb of London is Eltham Palace, a beautiful example of 1930s art deco architecture renovated by millionaire garden enthusiasts Stephen and Virginia Courtauld. The couple also created several medieval gardens: a rose garden, rock gardens, garden lounges, topiary gardens, an orangery and more, surrounded by the original moats.
Find out more on the English Heritage website.
Savill Garden, Windsor
The Savill Garden is a royal beauty spot and one of the finest ornamental gardens in Britain. Its 14 hectares of woodland and gardens also include the Queen Elizabeth II rose garden. On your visit, you can admire some of the largest trees and rarest flowers in the country. The Savill Garden is open all year round and offers activities for the whole family, including treasure hunts, plays and tea rooms.
Find out more at www.windsorgreatpark.co.uk.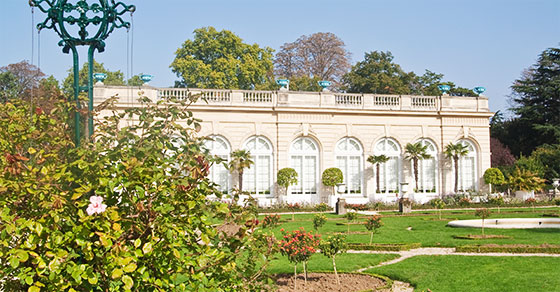 Romantic gardens in France
Parc Bagatelle, Paris
In the heart of the Bois de Boulogne in the 16th arrondissement, lie the Parc de Bagatelle and its château, created in 1775 following a wager between Marie-Antoinette and the Count of Artois. This splendid garden is a place for walking and relaxation: features such as little bridges, caves, rocks, expanses of water and artificial waterfalls make this a charming and romantic park, not forgetting the century-old rose garden (10,000 rose bushes from 1,200 different species), the lakes with water lilies, perennial plants, and more.
For further information, go to www.parisinfos.com.
Rosa Mir Garden, Lyon
This "hidden" garden is a true gem installed in a courtyard of a building in Lyon's La Croix-Rousse district. Created by Jules Senis, this unusual garden is decorated with seashells and contains 750 perennials, 4,000 sempervivum, and 5,000 plants imported from the Mediterranean region. The garden covers no more than 400m² but takes you into a completely new world, drawing inspiration from Spanish gardens and especially work by Antoni Gaudí such as the Park Güell and the Sagrada Família
Find out more at www.lyon-visite.info. Please note: open to visitors on Saturdays only.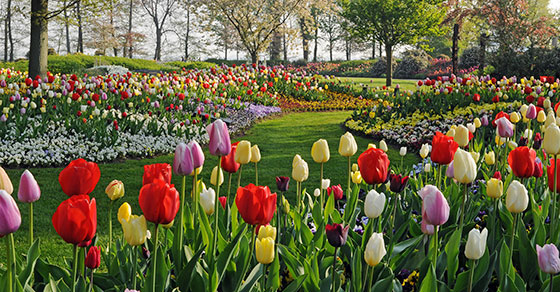 The Netherlands: tulips as far as the eye can see
Keukenhof, Lisse
Events at Keukenhof are not to be missed – they are a tribute to all the beauty of spring on their own! When you visit the world's most beautiful flower park before 13 May you can walk through an ocean of seven million flowers displayed across various gardens and wings. The park includes around 20 flower and plant exhibitions and nine gardens for inspiration where you can see wonderful collections of tulips, hyacinths, daffodils, orchids, roses, carnations, irises, lilies and much more.
To find out more, go to www.keukenhof.nl.
The Arcen Castle Gardens, Venlo
Discover Arcen Castle in Venlo and let yourself be inspired by the beauty of the flowers and plants found in its range of 15 gardens. Among these are the Rosarium, the "Lommerrijk" (kingdom of shadows), the Mountain Garden with its stone structures and waterfalls, and the "Casa Verde", which contains olive trees and the oldest fig tree in the country. Enjoy 32 hectares of space full of colours and smells, exceptional parks and gardens, as well as the 17th century castle.
Visit www.kasteeltuinen.nl to find out more.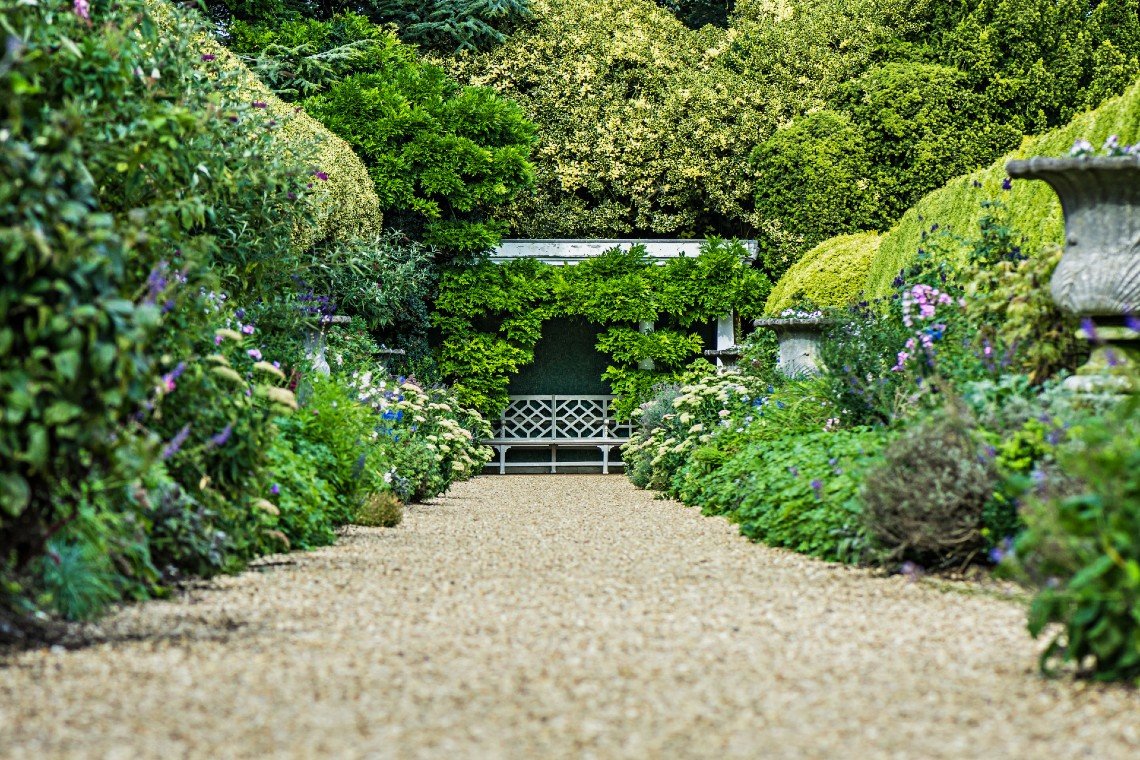 Surprising Luxembourg
Jardin de l'Europe, Troisvierges
This garden was created in 2000 as part of the interregional project "Jardins à suivre". For this project, students from the universities of Munich, Versailles and Edinburgh transformed wasteland into pleasant theme gardens. Discover this green oasis equipped with various footpaths, playgrounds and relaxation areas.
Find out more on the site of Troisvierges.
Rose garden of Munsbach
The Luxembourg rose association (l'association des amis de la Rose) maintains this public rose garden. Admire the different traditional and modern rose varieties of Luxembourg. The garden in Munsbach even has a rose named after it: the "Chateau de Munsbach", a lightly scented, buttery yellow bowl shaped rose.
Find out more at www.rousefrenn.lu.