For culture fans
Be warned: a day excursion or a short trip will not be enough to see everything that Düsseldorf has to offer culturally. Over 20 museums and 100 galleries await you here, not to mention the opera, ballet, theatre, literature and musical offerings. For city trippers, we recommend the following highlights:
Kunstsammlung Nordrhein-Westfalen – the heavyweight among Düsseldorf's museums! Here visitors can enjoy world-class exhibitions and exceptional works of classical modernism (including Picasso, Matisse, Mondrian), American art from the post-war period (Rothko, Rauschenberg, Warhol) and contemporary art (Gerhard Richter, Joseph Beuys and Imi Knoebel).
KIT - Kunst im Tunnel – a thrilling art experience! Directly below the Rhine promenade, in an underground exhibition space, young international up-and-coming artists exhibit their current work in the areas of painting, video, photography, sculpture and installation art.
Benrath Palace and Park – a complete work of art from the late Rococo period. Discover one of the most beautiful garden palaces of the 18th century: an ensemble, planned and built by architect Nicolas de Pigage, from the buildings and interior fittings to the 60 ha gardens.
For shopaholics
As one of Germany's largest fashion cities, Düsseldorf offers internationally renowned fashion fairs and schools. And, of course, it is also a real paradise for all shopping fanatics…
Königsallee – The "Kö" is the shopping address in Düsseldorf, and with good reason: the luxury avenue, with its many chestnut trees and grand buildings, is a catwalk, promenade and a flagship for many large stores, small boutiques, luxury jewellers and impressive shopping malls. Street cafés and luxury hotels complete the avenue's chic flair.
Schadowstrasse – on Düsseldorf's longest and most popular shopping street, around 200 shops offer just about everything you could possibly want. And this street is suitable for all budgets.
Carlstadt – in the historically significant Carlstadt district, you can find countless jewellery, clothing, homeware and antiques shops. And while you're strolling along the grand boulevards, be sure to get a taste of the numerous galleries that Düsseldorf's art world has to offer. For foodies, we also recommend the market on Carlplatz.
Bilk & Unterbilk, Flingern and Pempelfort – if you prefer an alternative, hip and contemporary shopping experience, these are the districts for you.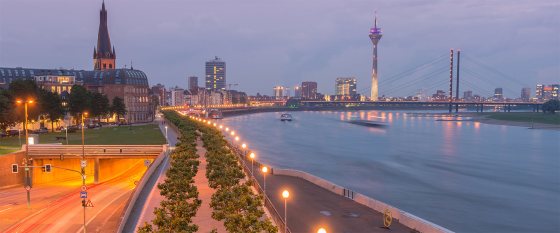 Promenade along the Rhine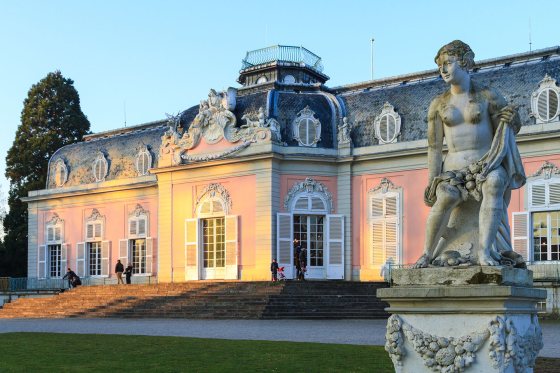 Benrath Palace
For hedonists and those who enjoy a stroll
As you may have already gathered, Düsseldorf invites you to wander and enjoy... whether it's on the elegant Königsallee, through the historic old town, in the über modern MedienHafen or in the quiet nature reserves and woodlands around the city. Just let yourself drift!
Rheinuferpromenade – here is where the city and the big river meet and Düsseldorf shows its Mediterranean side: stroll along the 2-km long promenade between the old town and Medienhafen, chat with the boules players or enjoy the view of the river and the Rhine meadows.
Boat ride – And since you're already at the Rhine... why not take the boat? Enjoy the city panorama from the water and discover the MedienHafen from a different perspective.
Hofgarten – for some relaxation during your city trip, we highly recommend a walk through the unique Hofgarten, the oldest public park in Germany. Those who are interested in the history of European landscape gardening will find some classical elements here: austere geometrical shapes in the original French classical style from the 18th century are mixed in with the style of English landscaped gardens.
For Japan fans
You no longer need to travel thousands of kilometres to feel like you're in Japan. Düsseldorf (along with Paris and London) has one of the biggest Japanese communities in all of Europe. Immerse yourself in the culture of the land of the rising sun.
Japan Town – Little Tokyo on the Rhine! Immermannstrasse in the centre of Düsseldorf will delight fans of Japan. In shops, bars and restaurants, here you will find just about everything that defines Japanese (pop) culture: little waving cats, colourful kimonos, manga, cosplay accessories and, of course, the best sushi and ramen in the city.
EKŌ centre of Japanese culture - a Buddhist temple, a Japanese garden, and a house in the traditional architectural style with a tea room invite you to discover traditional Japanese culture, which is rooted in Buddhism.