SATURDAY

On Saturday morning, meet your friends in Brussels-Midi/Zuid station. Pick up a takeaway coffee, and you're ready to go! It takes just under 3 hours to reach the centre of Utrecht. However, don't forget to change trains in Rotterdam! Your schedule: two days of total fun with friends.
The fun starts as soon as you arrive at Utrecht Centraal station. To get to your accommodation, you have to walk through the Hoog Catherijne shopping centre. But don't get distracted yet – first thing's first, dump your bags! Walk towards the Steenweg where you'll find the Cozy Pillow boutique hotel.
Cozy Pillow is more than just a hotel: it's a unique concept in Utrecht, offering six guest rooms and a multibrand shop. We think it's the perfect place to stay for a girls' weekend! We'll save a visit to the multibrand store at Cozy Pillow – the House of Fred – for Sunday. If your stomachs are starting to rumble, that means it's time for a healthy snack at Yoghurt Barn, less than five minutes on foot from the hotel.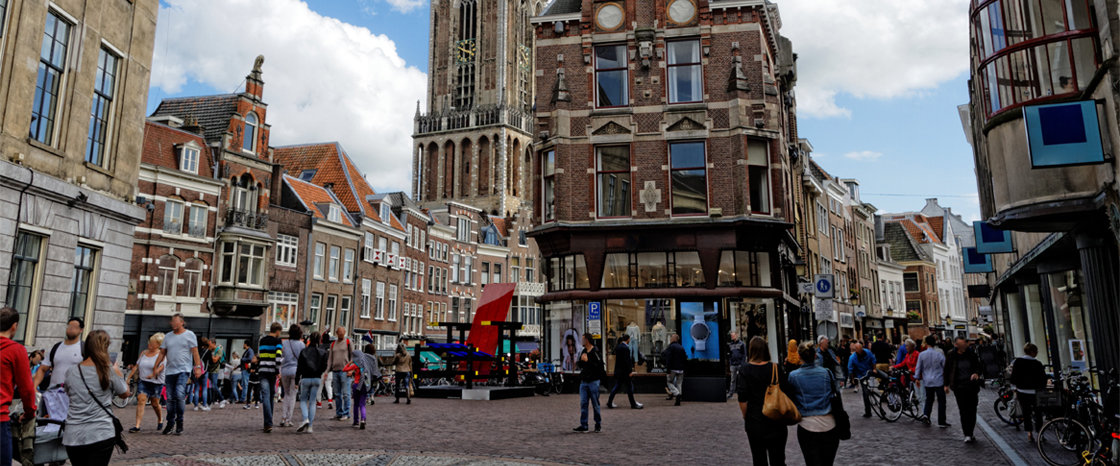 It's time to really get to know the city. Take a walk along the Oudegracht river to discover the city. There's a story to be found on every lamppost in Utrecht. Keep an eye out for corbels at the bottom of lampposts to find carvings that tell a story. There are a number of walks and routes around the lampposts of Utrecht, all of which are outlined in the book "De Lantaarn Spreekt" by Netti Stoppelenburg.
Don't forget that shops are open every day of the week in Utrecht, and they really have something for everyone with both chains and local boutiques. Enjoy a trip to the Hoog Catherijne shopping centre, or the many shopping streets the city has to offer. When you've shopped til you've dropped, it's time to get ready for the evening.
How do you feel about some fine dining in a repurposed church? Step inside the Bunk restaurant and let the interior and delicious food take your breath away. This is a unique concept, combining a restaurant, event space and hotel. When dinner is over, we'd recommend enjoying the rest of your night at Jue de Boules Bar. Boules is hugely popular in the Netherlands. Unwind, enjoy a glass, or chat the night away.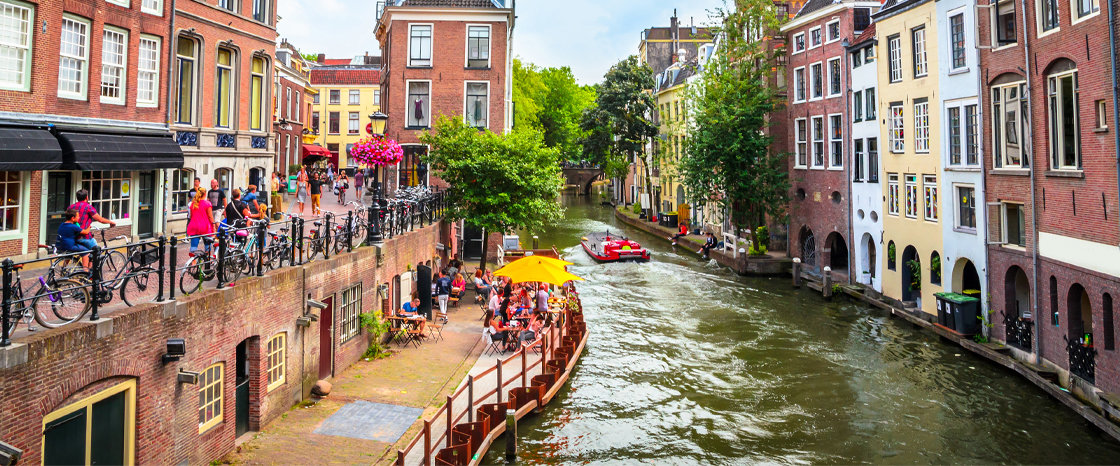 SUNDAY
Sundays are for brunches with friends! Enjoy a lie-in before grabbing a table at De Ontdekking, a cosy place for breakfast, lunch and coffee in the centre of Utrecht. This will set you up for a fun afternoon in the city! We recommend getting to know the city by bike. Cycle round the heart of the city or head out of town and enjoy the beautiful countryside. There are countless bicycle hire companies in Utrecht – pick one, and you're ready to go!
Round off your trip with a visit to the Utrecht Domtoren and climb the 465 steps to enjoy breathtaking views of the city. Of course, there's a lot more to do in Utrecht. If you're looking for more inspiration, you can find some at Bezoek Utrecht!
Relax after your two days of fun on the train back to Brussels. You can talk about your break, have a nap or read while on board. Take your pick and enjoy!