Trains: ideal for travelling as a family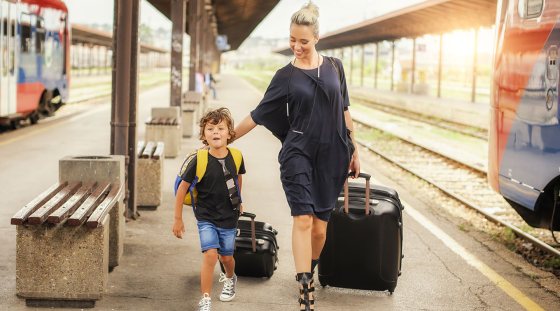 If you are travelling with Thalys, TGV INOUI, Eurostar or on ICE trains, ask for a family space when you book. You will be allocated comfortable seats around a folding table, which means you can take up all the space without getting in other passengers' way.
These spaces are generally located close to a nursery area, which is equipped with a changing table and a plug for a bottle warmer. When you need to feed your baby, don't hesitate to visit the restaurant carriage where the staff will be happy to heat up the food you have brought for them.
Keeping occupied during the journey
At the station, make sure you draw your children's attention to all the unique features of a train station, for example the comings and goings of trains and passengers, the ticket office, the shops and the rhythmic movements of the escalators. International train stations are veritable hives of activity!
Once you have taken your seat, make the most of the journey to spend some special time with your little ones and do everything you don't have time for at home. One great idea is to make them a surprise travel kit to give them when the train departs!
We don't need to remind you that children are brimming with energy and vitality. If you are travelling by train, it's best therefore to limit the journey to around five hours. For destinations further afield, it could be a good idea to make the journey in stages to break it up and give you time to stretch your legs.
Drawing and colouring: this is a classic, but a colouring book, a pad of paper, a pen and several colouring pencils will let the most creative children create many masterpieces.
Reading: try comics, children's fiction, crossword puzzles, word searches or stickers. There are so many options to suit young travellers. And if you have forgotten to pack them, book shops in stations are generally well stocked with such items.
Board games: many board games come in pocket editions, but you don't need to take the whole lot! A pack of cards (for traditional card games, families or Uno) will do nicely, and you won't have to worry about losing all the little pieces under the seats.
Making games out of nothing: with a little imagination, you can discover a whole heap of games that only require a piece of paper, which is nothing at all! You can play hangman, guessing games, noughts and crosses and so much more.
Tablets or games consoles: our little ones are addicted to their little multimedia gadgets. Let's admit it: this can work in our favour sometimes, finally giving us a moment of peace! Always put them on silent or plug in headphones to keep things quiet for the other passengers.
Something to snack on: this is a must! Don't forget to pack a little food and drink just in case. Failing that, the restaurant carriage could work in your favour and even provide an enjoyable distraction for curious little ones who want to stretch their legs.
Attractive fares for families
Most rail companies offer particularly reasonable deals for the youngest travellers.
With Thalys, TGV INOUI and Eurostar
If you are travelling with Thalys, TGV INOUI or Eurostar, children under the age of 4 can travel for free, as long as you don't book them a separate seat. At that age they prefer to sit on mummy, daddy, grandma or grandpa's lap anyway.
Between the ages of 4 and 11 inclusive, children benefit from a reduced child's fare. TGV INOUI offers a Forfait Bambin (litterally: "Toddler's rate") for journeys within France, and Thalys offers a Kid's ticket for €15 in Standard class, whatever the journey you are making. Or, even better, if you are travelling on board TGV Brussels-France, two adults who are accompanied by a child benefit from a reduced Family fare.
In Belgium, Luxembourg and the Netherlands
In Belgium, in the Netherlands and in Luxembourg, each passenger with a ticket can take up to four children under 12 with them for free!
ICE trains to Germany
Young people up to the age of 14 inclusive who are accompanied by a parent or grandparent can travel to Germany for free. This is valid on all trains operated by Deutsche Bahn, including those headed for Switzerland, Austria, Denmark or the Czech Republic.