Are you a sporty family?
Why not visit Provence by bike? There are routes suitable for children aged 7 and over. When you arrive, everything is planned for you, including bike hire, accommodation, maps and/or route sheets. If you want, you can even cycle light and have your luggage transported to your next stop. Whether you choose the Luberon or the Vaucluse with, for the most daring, Mont Ventoux (yes, the famous stage on the Tour de France), you can travel at your own pace and take the time to admire the magnificent countryside, the charming villages and the olive groves and lavender fields that stretch as far as the eye can see. You couldn't imagine anything better for some family time.
Of course, cycling holidays require preparation, so head over to the Provence Cycling website that will help you plan your itinerary. And, if you need some reassurance, the authors of the blog Voyages et Enfants [Travelling and Children] share their experience in the Vaucluse as a family, providing a wealth of details.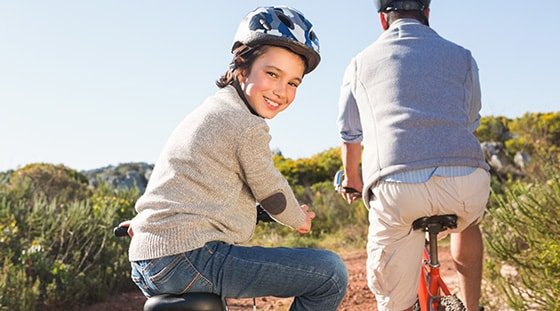 Are you a family that is interested in culture?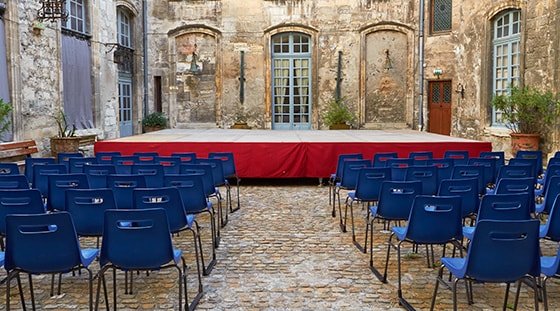 If you are looking for a destination in the south of France that is full of charm, warmth and artistic activities, there is only one contender: Avignon! During the summer and the Festival, the streets of Avignon vibrate to the tempo of theatre shows, music, dancing, puppets and so much more. The whole family will feel like children again looking around wide eyed, finding something marvellous on each street corner. In addition, there is a programme specially designed for children, in particular as part of the OFF festival.
If you are curious by nature, leave the well-trodden paths behind and help your children discover their first opera. And when you need some fresh air, try a cruise or canoeing on the River Rhone. To discover the town, you can also take part in a paper chase organised by the Avignon Tourism Office.
Plan your holiday to suit the ages of your children using the website Provence en Famille [Provence as a Family].
Do you like going to the beach as a family?
Head to Marseille! With little fishing ports, islands and inlets, Marseille has all the attractions of a paradise destination but only a few hours away by train.
You could start your trip on the beaches of Prado with their friendly family atmosphere, to help you fit in with the people of Marseille with their sing-song accent and cool attitude. You can get there by bus easily from the Old Port (Vieux-Port).Then, why not carry on to Cassis and the rocky inlet of Port Miou. A little tourist train (which is always fun) goes from the town centre.
Little ship's boys and girls and their parents will also love a boat trip, casting off to the island of Frioul or Château d'If. Check out the Marseille Tourism website to plan your short trips.
Just because you love lazy days at the beach doesn't mean you can't enjoy a short walk. To get the best view of Marseille, climb up to the Notre Dame de la Garde basilica in a Tuk-Tuk or by train. Even the most stubborn of children will enjoy it!
And in terms of food, everyone will certainly agree over a delicious pizza, a favourite in Marseille. An urban legend even tells that Marseille was home to the first ever pizza truck :-)
In short, Marseille is a sure winner for families in search of sun! For more ideas, have a look at the jam-packed programme featured on the Voyage Family blog site.