1. Snowshoeing: Slow and Steady Wins the Race
If you prefer a more leisurely pace, snowshoeing might be the perfect option for you. Bundle up in cosy layers and take a peaceful stroll through untouched snow as you explore pristine trails. Breathe in the fresh air and admire your surroundings. It's a peaceful getaway where you can deeply connect with nature and escape the busy and hectic pace of everyday life.
2. Sled: Winter Childhood Revisited
Sled sessions offer a different kind of winter thrill, one that's reminiscent of childhood joy. Many ski stations even feature dedicated sled slopes for children, some being accessible with a stroller. A slide with mum and dad, the wind in the hair and the laughter in the air make for a relaxing moment for the entire family.
3. Ice Skating: A Winter Dance
Even if you're not a skilled skater, ice skating can still be a fun and enjoyable activity. It's not just an Olympic sport! If you have never gone ice skating with your loved one, how about making it a date? Holding hands on the ice rink is an opportunity to bond, help each other and have a great time. If you'd rather have some fun with friends, challenge each other to skate backwards and try not to fall!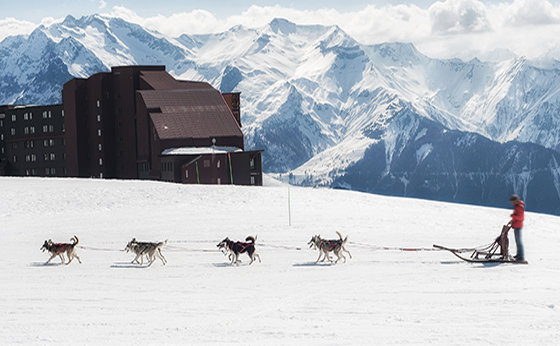 4. Dog Sledding: A Furry Adventure
Have you ever dreamed of mushing your own team of huskies? Team up with these incredible animals for a once-in-a-lifetime dog sledding adventure. The sound of paws in the crackling snow, the bond with your furry team, and the excitement combine for an unforgettable journey. Enjoy this unique adventure, unite with your dogs and make new friends: you are part of the pack!
5. Winter Hiking: Discover Hidden Gems with Every Step
If you love hiking, why not try winter hiking? It's a journey of discovery through snow-dusted trails and frost-kissed landscapes. As you ascend, the views become increasingly breathtaking. It's as if they have been lifted from a postcard. Snap some photographs and enjoy the invigorating sense of accomplishment and connection to nature along the way.
Just Embrace the Mountain's Magic
Whether you're with your partner, friends or family, remember there's always more to discover in the mountains. Keep an open mind, embrace the possibilities, and you might just find yourself captivated by a world of winter magic you never knew existed.