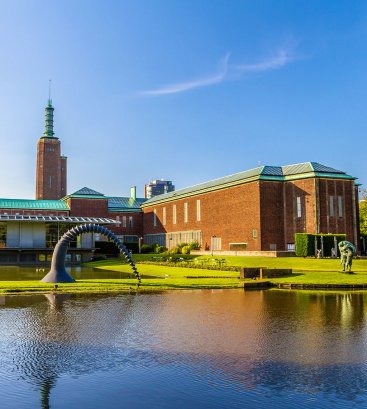 Culture
Rotterdam, the equal of its big sister Amsterdam, is a cultural destination with museums, art galleries and festivals throughout the year. Good to know: The Museumkwartier is a district with many museums including the Boijnmans van Beuningen Museum, the Kunsthal, the Dutch Institute of Architecture (NAi), etc.
Boijmans Van Beuningen Museum
Visit the Boijmans van Beuningen Museum and travel through the history of art. From the Middle Ages to the 21st century, from Bosch to Rembrandt and Van Gogh via Dali and Dutch design, this museum is well worth a visit. Highlights include the famous Tower of Babel by Pieter Bruegel the Elder, as well as paintings by Picasso, Courbet or Magritte and Kandinsky.
The Kunsthal
The Kunsthal dares to be novel, progressive and adventurous: you will find quality temporary exhibitions in more than 3000m² exhibition area. The museum offers up to five exhibitions at a time, whether they are original, dedicated to ancient works, experimental or photographic art.
Other museums
If you're an art lover, you can also visit the Wereldmuseum (World Museum) which is devoted to the ethnology and cultures of the world, or Het Schielandhuis (Museum of the History of Rotterdam). Don't miss the Photo museum, located on the peninsula of Kop van Zuid.

Shopping
Lijnbaan and the Beurs district
Just minutes from the Markthal and the cubic houses is the Beurs district. Here you will find all the great classic brands. Its originality lies in the different levels giving the impression of being in a maze.
If you prefer outdoor shopping, head to De Lijnbaan, the city's main thoroughfare, fully pedestrianised.
Oude Binnenweg and Karel Doormanstraat
On one side, the charming Oude Binnenweg, on the other the newer Karel Doormanstraat. Here you will find more intimate shops than on the Lijnbaan. Small shops for clothes, design and home decor.
Getting around
Since the Netherlands is the kingdom of the bicycle, renting one seems the best option for visiting Rotterdam. Launch yourself into the 'national sport' and get around like the locals. You will easily find bike rentals ranging from €10 to €20 per day.
If you opt for the pedestrian option, treat yourself to a 'water taxi' (about €4 to €5 per person), a quick and fun way to get from one bank to the other.