Only a few steps from the station to Disneyland® Park
As you emerge from the station, you immediately spot the famous Disneyland® Hotel with its equally famous Mickey Mouse clock. After a 5-minute walk, you reach the Disneyland® Park entrance, where you allow yourself to be engulfed by a blissful (and nostalgic) feeling. Hop along Main Street, U.S.A. to those catchy Victorian tunes and take in the delicious smell of popcorn.
The atmosphere at Disneyland® Park is just as legendary as its monumental pink Sleeping Beauty castle. However, the park's greatest treasures lie hidden in the waiting areas for each attraction: every detail has been carefully chosen to sparkle with magic so that passers-by might spot it. Inside the park, a huge range of options open up to you. In addition to the lovely shops of Main Street, U.S.A., Disneyland® Park has 4 themed lands you can enter from Sleeping Beauty Castle to make the Disney magic come to life.
Travel to the furthest reaches of the Milky Way in Discoveryland
Discoveryland will catapult you into the future. Use your laser shooting talents to defeat Buzz Lightyear's enemy, let your little ones take the wheel in Autopia and feel the force during your personal encounter with Darth Vader. The highlight – both literally and figuratively – of this futuristic land could already be seen when you arrived by train: Star Wars Hyperspace Mountain is over 60 m high and will launch you past asteroid fields and comets: a truly jaw-dropping roller coaster with all the trimmings. Tip: don't join the rebel alliance just yet if your stomach is either completely empty or very full.
If you want to take a break after this wild ride, look out for all the Disney characters that are emerging everywhere. You can easily discover the selfie spots with the official Disneyland® Paris app. Have a chat with Snow White, give Minnie Mouse a hug and fool around with Goofy.
'When You Wish upon a Star' in Fantasyland
Walk through the magical entrance of Sleeping Beauty Castle and enter Fantasyland, Disneyland® Park's flagship land where all your favourite fairy tales come true. This land will completely immerse you in Disney classics. Defeat the wicked witch from Snow White and the Seven Dwarfs, help Pinocchio escape from the hands of the evil Stromboli, and fly over the streets of London with Peter Pan.
Travel the globe in the popular It's a Small World boat ride. We bet you won't be able to get that famous tune out of your head for quite some time. And why not join the kids in the spinning teacups of Alice in Wonderland's Mad Tea Party? You won't find any white knuckle rides in Fantasyland, but instead you will experience lovely, heart-warming moments.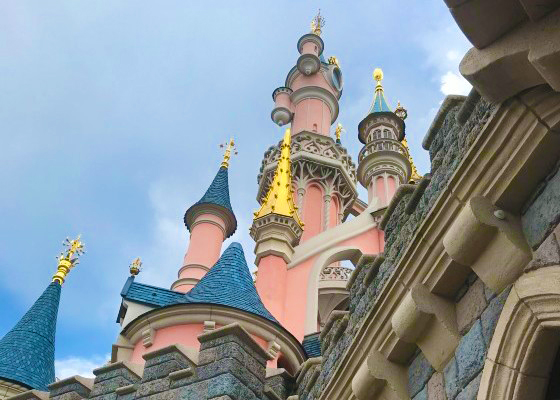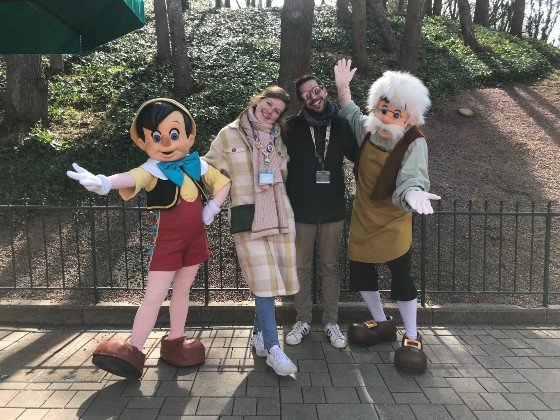 Put on your pirate hat and set course for Adventureland
Adventureland instantly offers you a hodgepodge of cultures and adventures! Try the bed of nails in the oriental market of Aladdin's Bazaar. Or search for hidden treasures on Captain Hook's pirate ship and the Pirates of the Caribbean attraction. You may just find yourself in the middle of a pirate fight! Yo ho, yo ho! A pirate's life for me! And if you want even more adventure, move on to Indiana Jones and the temple of Peril for a wild ride on this outdoor roller coaster. For adventurous archaeologists only!
Walk among the legends of the Wild West in Frontierland
Stroll past Colonel Hathi's Pizza Outpost, and join the ranks of the elephant march from The Jungle Book on your way to Frontierland. No trip to Disneyland® Paris is complete without a visit to the Wild West. Time to saddle up and soak up all those howdies and yeehaws in this land of cowboys, pioneers and gold miners. Mosey on into Thunder Mesa, an abandoned, old mining town where the runaway mine carts of 'Big Thunder Mountain' will treat you to a wild ride through the bygone era of the gold rush. An attraction not to be missed! Then move on to be spooked by the haunted Phantom Manor, where a lonely bride has been waiting for her groom ever since Disneyland® Park opened – not very successfully so far.
Experience the magic all year round
There's something new to experience in Disneyland® Paris every season: meet some famous Disney Villains at Halloween or sing 'Oh Christmas Tree' together with Donald Duck in the Christmas season.
If you want to stay at one of the magical Disney themed hotels, make sure to plan your visit to Walt Disney Studios® Park. That is the place where the magic of Disney and Pixar meet. There you can step into the shoes of a Walt Disney Animation Studios cartoonist, face the horrors of huge lift drop in The Twilight Zone Tower of Terror and shrink to the size of a rat in Remy's Ratatouille Adventure.
At the end of your visit, you will get on board your train tired but happy. And after catching one last glimpse of the enchanting castle, you can sit back into your comfortable seat and embark on a magical trip to the land of nod. You will arrive at your final destination before you even know it.