The essential elements of a visit to Tournai
SEE
Your adventure starts in the Grand Place! Lit up by the fountain display in summer, the Grand Place is the ideal place to sample some regional specialities – with its many restaurants and cafes. You can also admire the Halle aux Draps (Cloth Hall), a stunning 17th-century Renaissance building.

Enjoy a breathtaking view of Tournai from the belfry, the oldest in Belgium. A UNESCO World Heritage Site, it stands 72 metres tall and offers an incredible panorama to anyone who climbs its 257 steps.

Slightly further on, you'll find Tournai's Notre-Dame Cathedral, another UNESCO World Heritage Site. A real art lesson for lovers of medieval architecture, it combines Romanesque and Gothic styles, giving it a unique and exceptional status.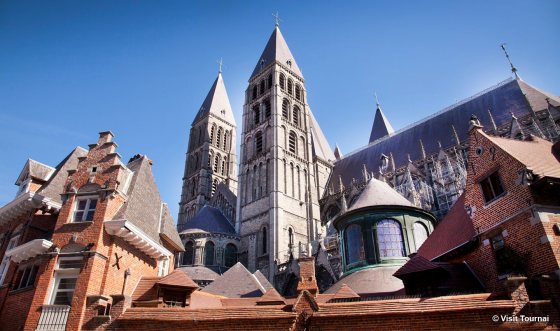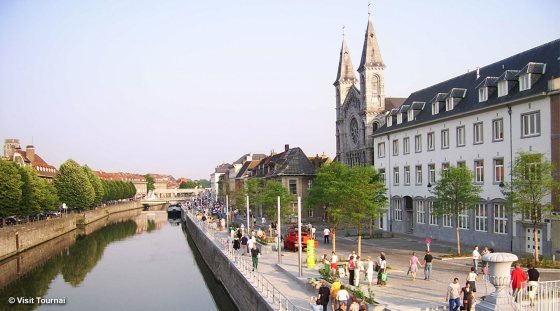 DO
Take a stroll along the Quai des Salines and admire the listed waterside façades or the Pont des Trous (Bridge of Holes), remnants of the city's medieval military architecture. And why not pause for refreshment outside one of the bars or cafes on the Quai aux Poissons?
The city boasts plenty of museums: folklore, natural history, tapestry, archaeology or fine arts. The latter is the only building in Wallonia designed by Horta, a master of Art Nouveau. A must-see!
Bargain hunters and collectors will love exploring Tournai's top haunts for antiques and bric-a-brac (Le Passé Composé, Rue St Martin; Le Camaïeu, Rue St Jacques; Le Vieux Paris, Bvd des Nerviens, among others). And on Sunday mornings, the car park of Les Bastions shopping centre is transformed into a flea market!
EAT
Regional specialities include mutiau (charcuterie made from pork cheek and calf's tongue with spices and parsley), pichou (sweet brioche-type roll served at Carnival time) or filled waffles (with vanilla, light brown sugar or Grand Marnier). If you want to try a typical dish, how about Tournai-style rabbit, served on Lost Monday (the Monday after Epiphany), or a Tournai salad?
For more refined tastes, the city has many fine restaurants, Including La Petite Madeleine, La Paulée Marie-Pierre and Le Giverny.
Those on a tighter budget can still eat well at L'Épicerie (international cuisine), Mon Liban (Lebanese), Eva Cosy (neo-canteen) or Comptoir 17 (burgers).