What not to miss in London
01 | The best way to see many of London's top attractions is from the south side of the Thames. Stroll along the South Bank of the river and get views of the famous Big Ben, the Houses of Parliament, London Eye and Tate Modern.
02 | If you love (street) theatre, shops and restaurants, you'll feel right at home in Covent Garden. Here, you can visit not only numerous quirky shops, but three markets as well. The most famous one is Apple Market, housed in a remarkable 19th century colonnaded piazza.
03 | If you want to experience the city's vibrant atmosphere, head to Piccadilly Circus. Comparable to NY Times Square's little sister, this square is highly frequented by tourists and locals alike… So it can get a bit crowded!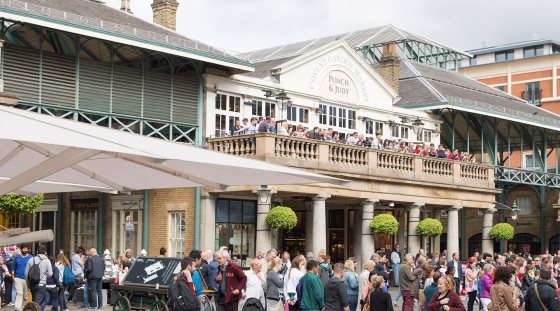 Covent Garden
Buckingham Palace
04 | Ride the London Tube! The metro's the best way to get around the city fast and get the most out of your visit. Want to buy your travel pass in advance? Find out which ticket you need at VisitBritain Shop.
05 | Start your day in style with a full English breakfast, including bacon, eggs, tomatoes, mushrooms, bread, sausages and baked beans. Once you've finished your plate, you'll be fully energised and ready to go explore.
06 | Take a tour of Buckingham Palace. During the summer months, the royal palace is open to visitors who want to catch a glimpse of the State Rooms, the Grand Staircase, the Throne Room and much more. Outside the tourist season, you can enjoy the Changing of the Guard ceremony each day in the morning .
07 | Another must-see in London is the British Museum, the third most visited museum in the world, dedicated to human history, art and culture. And what's more: like most museums in Great Britain, The British Museum is accessible for free!
08 | Are you a shopaholic? Get yourself to Oxford Street, regarded as Europe's busiest shopping street. Oxford Street's the main artery of London shopping, accommodating over 300 shops.
09 | Camden Town's the place to be if you like quirky shops, vintage gear, live music and food. Explore the extensive markets, stroll along the Regent's Canal, visit one of Camden's great pubs or enjoy delicious cheap eats at Camden Lock Market.
10 | End your London visit with a night out in Soho. This popular area in the heart of London is widely known for its theatre venues, bars & restaurants and clubs. Grab a cocktail and dance the night away!