1. Almost everything's free
At the Ghent Festivities, visitors can enjoy plenty of free things to do and see: there are live concerts on 14 of the city's squares, various international music festivals, street performers and theatre, dance and poetry workshops, circus spectacles and many more cultural events. Where else could you get all of that entirely for free? And the good news is: there's so much variation that there is an activity for everyone, no matter what floats your boat.
2. Street food galore
Already known for its fine culinary addresses, Ghent continues to amaze with food during the Ghent Festivities. You'll have some tough choices to make between traditional Ghent specialties, oriental cuisine, sweet desserts, the good old classics (Italian, burgers, hot dogs), vegetarian treats, cocktails, fresh smoothies and so much more. It's a good thing that you'll at least walk off some of these yummy snacks while exploring the festivities ;-)
3. Fun for the whole family
The Ghent Festivities also have a lot of attention for families and children. There's a range of (free) activities for kids of all ages, from fun games and quests in museums, hip-hop workshops, face painting and puppet theatre to magician's performances, plays and crafts workshops. A few local volunteer organisations even offer animation for children while their parents have a drink out on the terrace.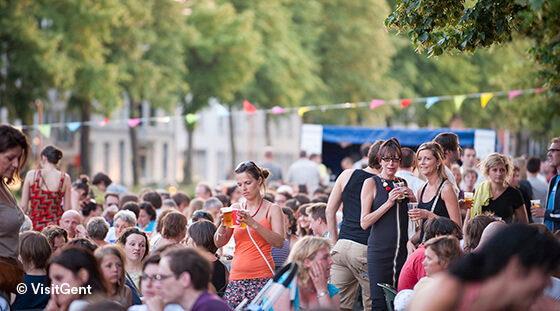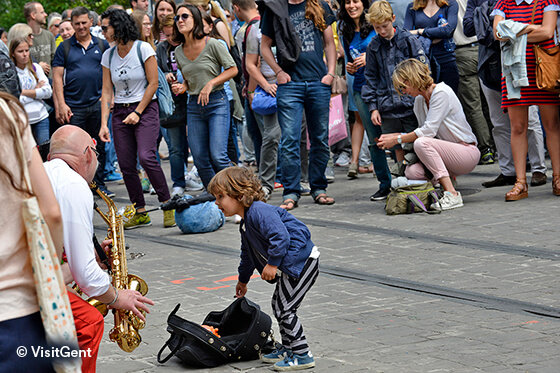 4. The atmosphere is unlike anything you've ever seen
If you've already visited Ghent, this won't be news to you: the locals are easy-going, welcoming and friendly, something that's only amplified during the Ghent Festivities. Proud of their event, which draws thousands of tourists to their city each day, the "Gentenaren" are all smiles & good vibes :-) And you can be certain: the festive mood will cross over to you, too!
5. Fireworks at a beautiful location
Always popular with audiences of all ages: fireworks. The Ghent Festivities have a special fireworks display on offer every year. Within 1 km from the city centre, Portus Ganda – a picturesque marina – is the setting for this spectacular show, which lets you enjoy fireworks set to (local) music.
In short: this event you don't want to miss!