Must-sees for your Ghent getaway
SEE
The beating heart of Ghent is the Graslei and Korenlei. Whenever the sun is out, people of all ages, both locals and tourists alike, gather on the embankments of the Leie River. Students rehearsing, guitar players, daydreamers, tourists resting their feet… This is one of the most perfect places for doing all that and more, while you admire the historic buildings, St Michael's Bridge and the calming, glistening water.
One of the best views of Ghent can be perceived from St. Michael's Bridge. From here, you can see the city's famous three towers: St. Nicholas' Church, the Belfry (with the Adoration of the Mystic Lamb on display) and St Bavo's Cathedral.
Take a walk across the Millionaires' Quarter. It's here that leading architects built their most prestigious oeuvres during the interwar period. Nowadays this area is preserved for the more affluent "Ghentians", still radiating beauty and grandeur.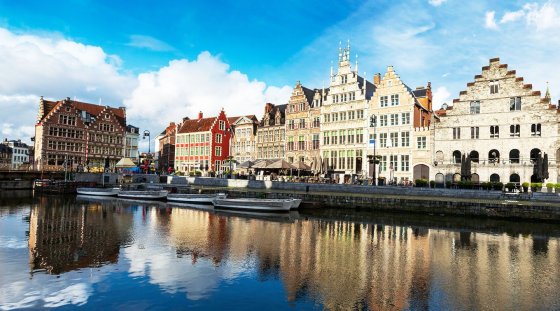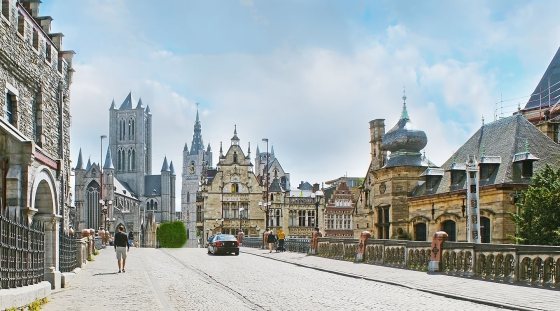 DO
Take your time to stroll around the oldest part of town: the Patershol. Many would call it Ghent's most cosy neighbourhood, with its narrow streets, medieval townhouses and cobblestones, but it's also the city's culinary heart, littered with restaurants and eateries of all kinds.
One of Ghent's best kept secrets is the centrally located Appelbrugparkje. This tiny park is usually quiet and offers a lovely view of the Great Butchers' Hall and the Old Fish Market.
A relaxing way to explore Ghent is by renting a boat. You don't need a special license and you have several types of boats and formulas to choose from. Pack your lunch and gather your friends to go boating on the Leie.
EAT
Café Parti, a slow food restaurant right next to Ghent's main train station, serves international fusion cuisine. In summer, sit out on the backyard terrace while you enjoy your dish with a glass of wine.
If you like sushi, Sushi Palace is your kind of place. Maki, sashimi, nigiri, hoso, eda mame … You name it, they have it! The fast service comes as a plus.
Café René's popular with the locals. This bistro-restaurant serves typical Belgian dishes including vol-au-vent, beef stew and meatballs in tomato sauce. This place is no nonsense and you'll definitely leave feeling stuffed.