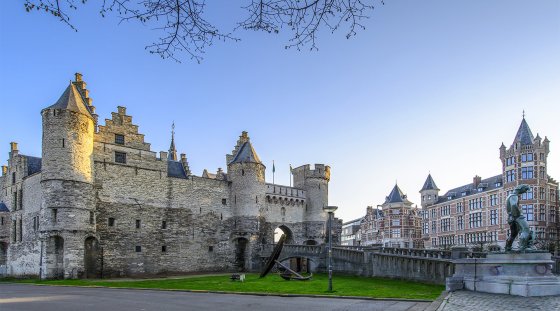 The Steen
Architecture
The old and the new collide in Antwerp. The city's home to many historic buildings including the Cathedral of Our Lady, the medieval fortress Het Steen and city hall, but the ever-changing architectural landscape also boasts modern buildings, such as the already legendary Port House by Zaha Hadid, the 10-storey MAS (Museum aan de Stroom) and the Court of Justice.
Tip: Get to the rooftop of the MAS museum for a truly inspiring panoramic view of Antwerp's skyline… It's free!
Culture
Soak up Antwerp's rich history in one of the interesting museums. The Museum aan de Stroom (MAS) tells the story of the city's past, the river and the port. Lean more about printing and typography at the UNESCO-listed Plantin-Moretus Museum or visit the Red Star Line exhibition, which focuses on the stories of millions of passengers travelling to America from Antwerp.
Other museums worth mentioning are the Rubens House, former residence of the brilliant painter Peter Paul Rubens, and the ModeMuseum (MoMu), Antwerp's fashion museum.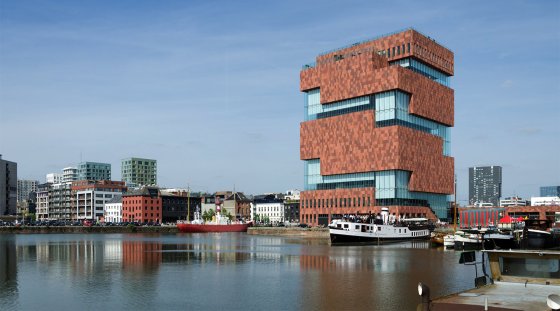 The MAS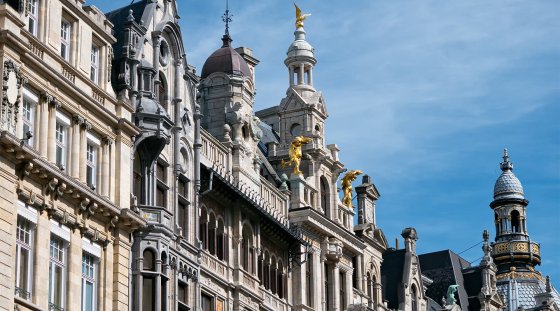 Shopping
Let's not forget that Antwerp's a magnet for shopaholics, with a wide variety of shops to choose from. The city's most famous shopping street is the Meir, which is where you'll find all the well-known stores and big retail chains. If high fashion is more for you, head to Hopland and Schuttershofstraat, home to some of the fanciest boutiques Antwerp has to offer.
Hipsters and fans of vintage and antiques shouldn't miss Kloosterstraat, lined with quirky and quaint shops. A little more down to the south of the city centre, you can find the Nationalestraat, the heart of Antwerp's fashion scene. Here, the truly fashion forward will find everything their heart desires.
Relaxing
If you like to stroll around or take in some lovely views, there are quite a few opportunities to do that, as well. Don't miss the Vreemdelingenmarkt (the strangers' market – a melting pot of cultures) on Saturdays. Here you'll find fresh fruit and vegetables, flowers, spices, savoury pancakes and much more.
Step back in time in the Vlaeykensgang, an alley in the shadow of the Cathedral dating back to the Middle Ages. If you want to get away from the crowded city centre, take the 80-year old pedestrian tunnel leading to the left bank of Antwerp. Pick one of the benches along the Scheldt and admire the exquisite skyline.